Early Hardwood Plantations
"The following Australian timber-trees are now grown in the State plantations:- Western Australia: jarrah, karri, yate; South Australia: sugar gum; New South Wales: blackbutt, forest mahogany, grey ironbark, spotted gum, tallow wood, turpentine, woolly butt, and silky oak." (Annual Report SFD 1910-11)
In his report (Vincent 1887) was less than enthusiastic about the need for plantations.
" ... The Inspector of Forests, Mr Ferguson, is in charge of a nursery at Macedon, from which large quantities of plants are distributed gratuitously to the public. He has planted about 110 acres on the summit of Mount Macedon with oak, elm, maple, pines &c. The situation is very much exposed, and, even if the trees grow, they will never give any wood of value."

"Small plantations have been made at Majorca, where 500 acres have been planted with wattles, pines, and blue gums; at Havelock 300 acres, and at the You Yangs 1,080 acres are enclosed and partly planted with the trees just mentioned. In each case there has been no great success, except with the wattles and blue gums. The plantings of exotics generally, and of English hardwoods especially, appears to me a mistake, as the latter are inferior to the indigenous trees. Rabbit-proof wire netting has generally to be put up at prohibitive cost; and as long as there are large areas available for conservation, covered with the natural growth of eucalyptus, plantations are quite out of place, and the money spent on them can only be regarded as wasted. One thousand times the area of natural growth could be well conserved with the same money. No accounts are kept up, showing the cost to date of the plantations. The sum expended last year was £1,585, not including supervision."

"Wattle Plantations - There is little doubt that these may be made to pay extremely well, but the remarks that I have just made apply equally to the wattle. There are very large areas more or less covered with (?) trees. Both time and money can for the present be far better spent in preserving these, and in making them secure against the selectors and against theft, than in making plantations. After a few years wattle plantations might be commenced. In selecting the reserves, areas suitable for the growth of the tree, and close to the market, might be specially taken up with that view."
However, there continued to be a focus on plantations as the following quotes illustrate:
"A nursery has been started at Gunbower Forest, and here it is intended to grow hundreds of thousands of sugar-gums and bluegums; the former for the arid dry plains of the Avoca and Loddon, and the dry sandy mallee wastes of the north-west and northern portions of the Colony." (Report of the Conservator, 1890)

"Large wattle and sugar gum plantations have been formed in the Portland district, and smaller ones at Mount Beckwith, Eddington and Cave Hill." (Extract from Annual Report SFD 1905)

"The plantations at You Yangs, near Lara, cover some 1,300 acres, and consist chiefly of blue gum, sugar gum, pine of several species, and tan wattles. At present there is no demand in the Geelong district for the hardwoods owing to cheap supplies from Otway Forest, but the blue gum will later on come into use for local bridge and jetty work." (Annual Report SFD 1907-08)

"A commencement has this season been made at Dimboola, where 2,500 acres are enclosed, sowing and planting of sugar gum, bluegum (the latter for fuel), and various other hardwoods being in progress. (Annual Report SFD 1909-10)

"Eucalypts, chiefly ironbark, spotted gum, blackbutt, red mahogany, and sugar gum, were planted and sown at Dimboola, Dargile, Callawadda, and Korumburra, to the extent of 320 acres. Black featherleaf wattle was sown on 393 acres at the Grampians, at Lake Lonsdale (near Stawell), and at Mount Beckworth (near Clunes)." (Annual Report SFD 1917-18)
Jim Mckinty (1991) also mentions these early plantations.
"Near Majorca a plantation of Sugar Gum (Eucalyptus cladocalyx) was established to supply mining timbers when it was thought there would be a shortage due to slow growth of local timbers, The mines closed before the plantation developed but it is now a valuable resource of fencing timber and firewood. It has some trees of Sugar Gum which are of notable size."

"A smaller area was planted near Kingower but it is now managed as part of the BIB forest which surrounds it."

"In 1916 experimental plantings of many species were made at Dargile, north of Heathcote, but these serve now as an interesting recreation area." JA Mckinty, 1991
Where did these early plantations go?
All appear to have disappeared from the landscape very early on in the 20th Century - with the exception of those of one species - Sugar Gum (Eucalyptus cladocalyx) a native of South Australia.
"This eucalypt originates in South Australia in three distinct populations: the Flinders Ranges, Eyre Peninsula and on Kangaroo Island. Sugar gums from the Flinders Ranges reach up to 35m in height and have the classic 'gum' habit: a straight trunk with steep branches occurring about half way up. Eyre Peninsula and Kangaroo Island trees are much shorter and often have crooked trunks. Sugar gums are notable for their mottled yellow to orange bark and clusters of flowers grouped on leafless branchlets inside the tree crown. The old bark is smooth and grey, shedding in irregular patches to expose the fresh yellowy-brown bark." 1
"The tree is commonly planted across southern Australia for use as a windbreak or shelterbelt, or for timber and firewood production." 2
"Sugar gum, a chiefly plantation-grown native hardwood, produces a dense, blonde to tan timber that is both decorative and durable. This vigorous plantation species has a history of farm use for firewood and fencing. However, sugar gum has the capacity to produce higher value sawn timbers. Where good genetic material has been used in plantation, the form of the timber lends itself to sawlog production with minimal management requirements. CSIRO research rates sugar gum as the most outstanding species of the four native hardwood species grown in Victoria." 2
Timber harvested from sugar gum has little defect and is prized for its durability. It is particularly suited to situations requiring high strength where appearance is also important, such as flooring and joinery. Sugar gum polishes to a superb finish making it highly sought after for decorative applications. The timber can exhibit desirable grain features such as a bee's wing and fiddle-back figure, suitable for the production of high quality furniture and flooring. Its durability also makes it a valuable timber for exterior applications such as cladding, decking, outdoor furniture and pickets. 2
In 2021 it appears that there are only four significant areas of sugar gum plantation remaining. You will find these areas on the maps provided. The areas of plantation have been delineated very roughly from what can be interpreted from the satellite imagery that you will see on each map. Therefore, treat the areas given below with caution.
Approximate gross plantation areas are :
Barrett - 160 ha. A late planting - perhaps 1960s -1970s. Very small planted areas can also be found in the Bryntirion State forest dating from the 1950s.
Majorca - 210 ha. Establishment of this plantation was underway in 1887. (see Vincent above)
Wail - 300 ha. Establishment from about 1909-1910. (See above refrence from Annual Report for 1909-1910)
You Yangs - 680 ha. Establishment of this plantation was underway in 1887. (see Vincent above)
In October 2021 Brian Fry reports that the Majorca plantation appears now to be largely comprised of coppice arising from previous harvesting operations, although there are a few large original trees left. In 2021 firewood is still being made available from the small planting at Bryntirion and the extensive plantings at Wail. This may also be happening at the You Yangs but we do not have confirmation of that as yet.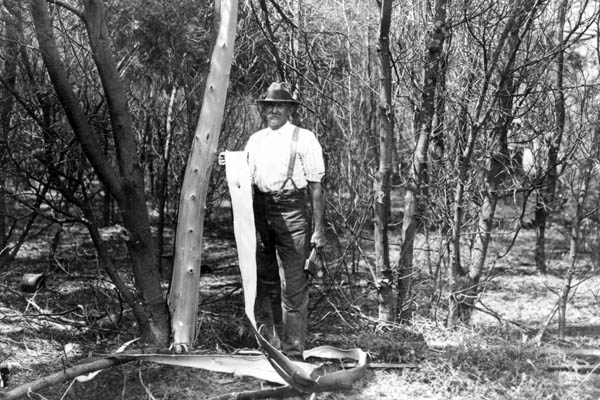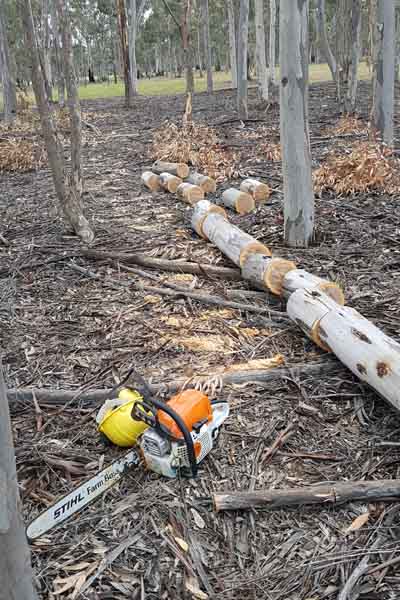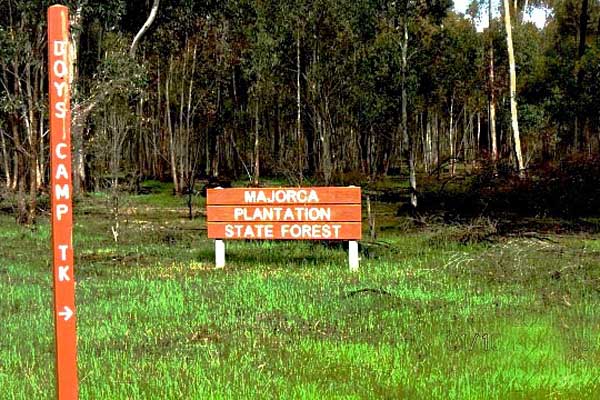 1