What's New
A Snapshot of the Most Recent Additions.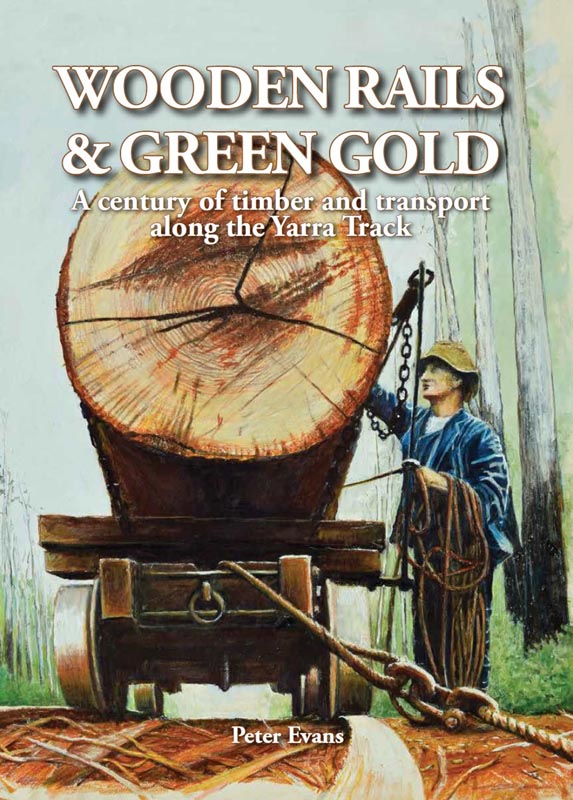 New Book by Peter Evans
"The book covers the forest history of the Great Dividing Range between Healesville and Woods Point and every sawmill along the Yarra Track. I interviewed dozens of former sawmill workers and foresters for the book. The book also covers the ongoing battle between the FCV and the MMBW over closed catchments. A theme running through the book is a mill-by-mill and town-by-town coverage of the 1939 bushfires drawn from official inquests and oral history. One chapter examines relationships between foresters and sawmillers." Peter Evans, August 2022
The Carver Papers
This collection of historic forestry documents was put together by ME Carver. "Carver's papers, Forestry in Victoria 1838-1919 are considered by some historians as the authoritative source. Maurice Carver was a clerk in the Forests Department where, in the late 1920s, he was given the task of destroying 'inactive files'. This task may have led him to compile his history. He indexed reports, gazette references and other documents up to 1919 and provided an overview. He produced staff lists for 1908 and 1917, but did not include nursery and plantation staff as these staff were neither listed nor counted by the Public Service." ( See: VSF Origins, G Fahey)
What is available through this site are separate packages which cover the entire collection. When you access the documents you will find a file called Carver Volume Index.pdf which has been extracted from the papers to help you find your way quickly. Volume E contains an extensive Index covering all Volumes but also, and perhaps more importantly, Carver's own summary of the documentation he has put together. It is a good place to start.
The availability of this digital copy of Maurice Carver's five-volume set of "Forestry in Victoria 1838 - 1919" on this website has been made possible
thanks to the advocacy of Paul Barker and the management of Julie McCormack of the Public Records Office, Victoria.
Peter McHugh's Material
The material isn't new but this link to Peter's work is new. Have a look at his continually evolving site by using the link below.
He has also published three series of Victorian forestry and fire stories. Use the links below.
Did You Know?
The FCV was an early adopter of the possibilities offered by satellite imagery.

"In mid-1972 and again in 1973, the US National Aeronautics and Space Administration will fly experimental spacecraft instrumented to study earth resources from space. These spacecraft will be called Earth Resources Technology Satellites (ERTS) A and B."

"The scale of ERTS imagery (approximately 1:1,000,000) will limit resolution to approximately 700 feet. However, as yet the interpretation of this imagery is an unknown art. It is conceivable that subtle features that are lost on a mosaic of ordinary air photos will be noticeable on 100m x 100m photos taken under conditions of uniform lighting. The immediate problem will be to learn how to make use of this imagery. To this end, the Forests Commission will undertake studies relating to forestry.
See: Small Format Aerial Photography, R Spencer, VSFA Newsletter 30 (May 1972) p29.

Read More

The FCV started using small format photography in forest management in the early 1970s.

"Aerial photography is often required to record local changes in the years between major surveys or to provide additional detail in selected areas. Such information may include details of species and growth, or changes such as new roads, tracks, firebreaks, boundaries of clearfellings, replantings, burns, insect and disease attack and so on."

"For these purposes, simple, cheap and rapid methods of obtaining supplementary photographs using 70mm and 35mm cameras have been developed."
See: Small Format Aerial Photography, R Spencer, VSFA Newsletter 30 (May 1972) p43.

Read More

"A photograph in the The Age on 28/1/1954 showed three messmate poles passing through Melbourne on their way from Mt Cole to the ABC transmitting station at Lyndhurst near Dandenong, The largest of these was 112 ft long with a 31 in. under bark butt diameter and 11 in. top diameter. The price received for this pole was 9/- per lineal ft. at roadside.

Recently twenty-five 70 ft poles with a 6 in. top diameter averaged 14 in. diameter at the butt and 10 in. at the centre. From June 1950, to January 1954, seventy poles of 90 ft. or longer have been sold from Mt. Cole."

S. Calder, Beaufort. VSFA Newsletter No.2, March 1954
The Age Article

Read More
Images
Click on any photo to enlarge it and access controls for the slide show.