Large Fire Tankers
Barry Marsden (bio)
The two videos connected through this page were produced by Rawdon Sthradher. Rawdon was originally a photographer and video producer with the Soil Conservation Authority and then CF&L in all its various guises for 12 years. He freelanced for the next 20 years, and in that time still did quite a bit of work for Fire Management, Fisheries and other sections of the Department.
This article describes the main tanker versions between WW2 and 2014.
---
Post WW2: Blitz Tanker 4x4
"The Commission has obtained through the Disposal authorities 50 WD "4x4" Army type vehicles for fire-fighting purposes". Source: FCV Annual Report 1946/47. These vehicles are almost certainly the "Blitz" trucks in the FCV's tanker fleet.

Exact capacity of water tank and make of pump unknown. A low-down hand-operated back-up pump and tank-mounted hose reel are visible in the photo.
Mike Cecil (website) has provided the following information about the vehicle:
The 'Blitz' is a Canadian Military Pattern (CMP) vehicle, Cab 13 type, built by Ford. The Canadian Department of National Defence model number is F60L, which translates as F for Ford, 60 being 60cwt rated carrying-capacity under all conditions; ie 3 tons, and L being Long wheel base, which was 158.25 inches. The Ford model number is C0180F. The engine was a conventionally-aspirated 239 cubic inch side valve V8 petrol engine, the gear box a four-speed forward, one reverse, and the transfer box a two-speed selectable high-low range. Four wheel drive was selected in the transfer case. The vehicle pictured is a Ford F60L without a winch. It has the Australian 1944 pattern cab with demountable canvas doors. The rear military bodywork has been replaced with a custom-built tanker body which is not military, so there is no telling what the original bodywork may have been. There were two manufacturers of CMPs: Ford and Chevrolet. There were thousands and thousands purchased or supplied under the Canadian Mutual Aid Agreement (CMA) during WW2, and used by all three services plus some supplied to the US Forces operating in Australia.
And also: "Six water tankers obtained on loan from the RAAF were placed in the field. One unit was fitted with auxiliary equipment which will be adopted as standard design for these vehicles". Source: FCV Annual Report 1949/50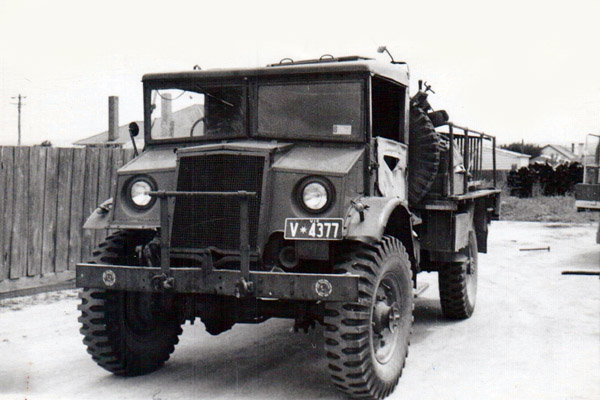 ---
1951/52: Austin Tanker
"Three water tankers, each of 400 gallons capacity and built to the Commission's own specifications, were delivered and orders placed for three additional units". Source: FCV Annual Report 1951/52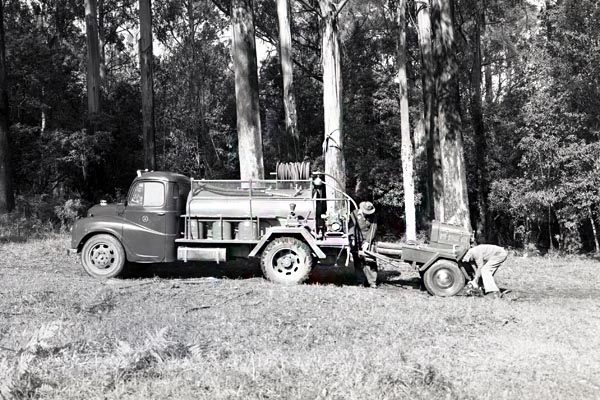 ---
1960: Bedford RLHC 4x4, Petrol
The FCV purchased two cab/chassis vehicles, that were imported from England in January 1959, and assembled them as tip trucks for the Tamboritha road project north of Heyfield. Additional vehicles would later be purchased to become FCV fire tankers. The tankers were designed using the configuration of the earlier Blitz tankers, with a rectangular tray-mounted water tank and a manually-operated hose reel attached to the tank lid. Side grab rails were installed along each side of the tray.

The water tank had three connecting compartments providing a total capacity of 2700 litres. A 7 HP Howard / Gaam 30B pump delivering 80 GPM @ 80 PSI provided water flow to the firefighting nozzles. The Howard engine, equipped with a rope start, could be temperamental and difficult to start on occasions, and would later be replaced with an electric start 7 HP Wisconsin Gaam pump. The backup pump was a Grazcos hand-operated lowdown pump.

The early cabins were hot boxes during extreme weather conditions, as the driver was virtually sitting on the engine in an enclosed cabin. The only means of cooling was to lower the door windows, open the floor vents and the driver side front window, which was hinged and could be angled out at the bottom. Although some cooling air was provided it also allowed the cabin to fill with road dust from heavily trafficked firelines.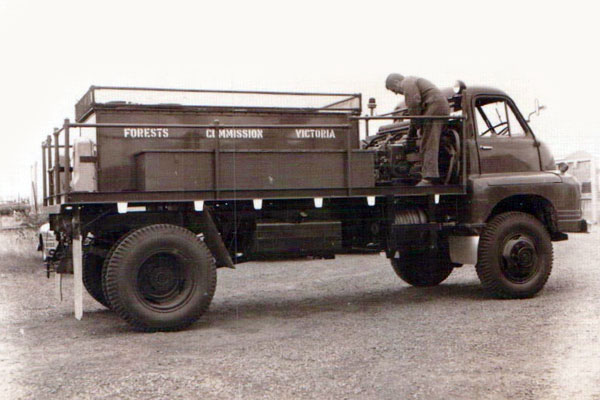 ---
1972: International C1300 4x4, Petrol
Twelve International C1300 4x4 fire appliances were developed by the FCV during the 1972/73 period. The vehicles were introduced to fill a role as a manoeuvrable small unit capable of operating in steep mountain country. They were equipped with a 1730 litre V-bottom steel water tank, installed between the chassis cross members to provide a low centre of gravity. The tank had a three-point mounting, two at the front and one centrally located at the rear, to allow the chassis to "twist" during rugged field operations. Lowering the water tank between the chassis rails provided excellent rear vision for the driver when reversing. The V-bottom built into the water tank allowed 98% of the water volume to be drained on grades and side slopes as steep as 1in 6.
A 7 HP Wisconsin/GAAM 30B pump was mounted on the front platform with two 4.5 metre deck hoses, one each side forward of the pump unit. A live hose reel c/w 18mx 25mm rubber delivery hose was mounted on the rear tray. The pump could deliver 80 GPM @80 PSI. Extensions to the pump controls enabled all pumping operations to be carried out from the ground. Two knapsack spray pumps and two axes were carried in purpose-built mounting brackets located on the offside of the vehicle, and a rakeho rack was attached to the driver's side of the water tank.

A metal storage box was mounted next to the hose reel on the rear platform, which carried 182 metres of 38 mm canvas hose and fittings.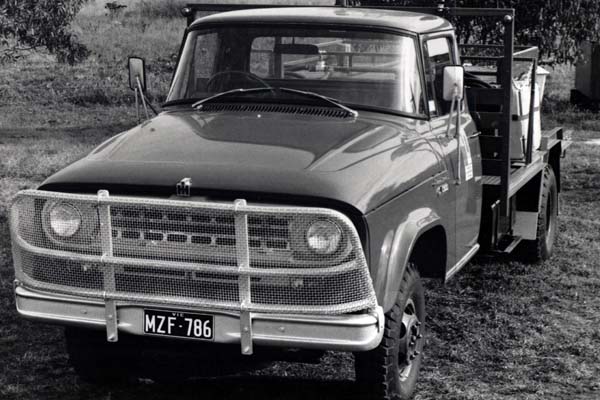 ---
1972: Bedford "M"Series 4x4, Petrol
The first "M" series Bedford 4x4 tanker assembled for the FCV was based on a CFA design. The chassis had a full-length metal platform with a 3640 litre cylindrical water tank secured to the chassis with metal bands. Suction hoses were mounted on hooks located on either side of the tank. Water delivery was via a 7 HP Wisconsin/Gaam 30B pump delivering 80 GPM @80 PSI. The Wisconsin engine had been fitted with an electric start mechanism replacing the previous standard rope start, which was designed and installed by the FCV Fire Protection Workshop at North Altona.

A Wajax 3 stage pressure pump was mounted to the tray to provide high pressure nozzle flow for extinguishing burning embers in tree tops.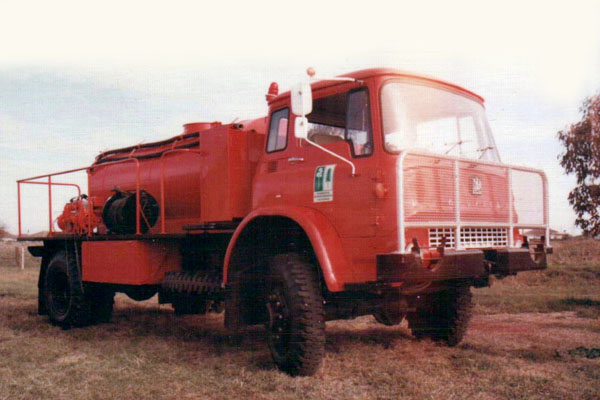 ---
1975/76: Bedford "M"Series 4x4, Petrol
In 1975 the M Series Bedford tankers underwent a design change, replacing the cylindrical water tank with a "V" bottom water tank that allowed it to be lowered between the chassis rails reducing the centre of gravity. The tank had a three point mounting, secured to the chassis with "U" bolts at both rear chassis rails and a centre pivot point cross member at the front, to allow for oscillation on unstable ground in the field. The sides of the tank were protected by heavy duty coaming rails, and the operating deck fitted with aluminium heat shields to protect the crew.

Water delivery was via a 7HP Wisconsin /Gaam 30B pump, delivering 80 GPM@ 80 PSI.

The water tank was divided into two separate compartments, with a total capacity of 4090 litres - 2727 litres in the front and 1363 litres in the rear. The "V" bottom allowed for better drainage of the compartments. The smaller rear water compartment could be left empty to reduce the weight over the rear wheels when travelling long distances to emergency fire situations. On arrival the tanker could immediately commence operation using the forward water compartment.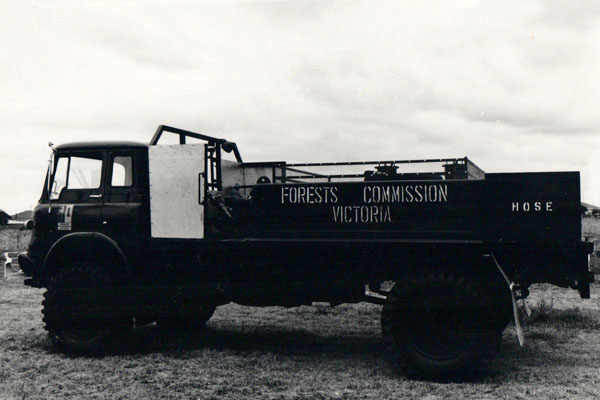 ---
1976: Ford D1213 4x2, Petrol
The FCV introduced four Ford 4x2 dual wheel fire tankers into the fleet of 83 appliances for specific operations in non-mountainous locations. The vehicles had a flatbed tray with a 2720 litre rectangle water tank secured to its deck. A mesh protective cage surrounded the lid of the tank providing secure storage of suction hoses, rakehos and shovels.

A 7HP Wisconsin Gaam pump delivering 80 GPM @ 80 PSI provided flow and pressure to the delivery outlets. The pump was centrally mounted on the tray deck between the cabin and the tank.

Purpose built mounting brackets were located on each side of the tray deck. One elevated bracket attached to each side of the water tank secured a 4.5m rubber blacking out delivery hose and nozzle, another secured three knapsacks supported by a metal equipment storage box for tools. The deck on the drivers side supported two equipment boxes - one box contained 6 x30m lengths of 38mm canvas delivery fire hose ,and one box for additional equipment items - i.e. vehicle jack, triangles and chain. A jerry can mounting bracket was installed between the two boxes.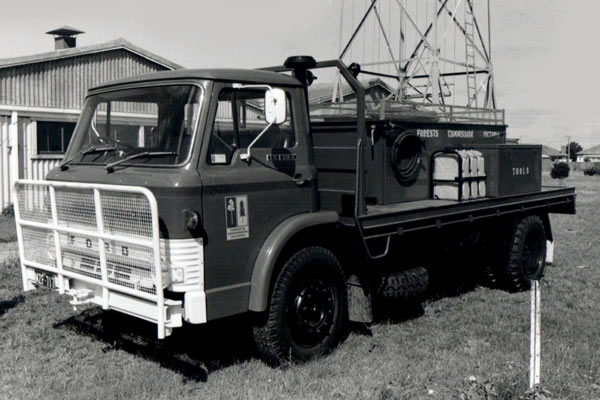 ---
1977: Bedford "M"Series 4x4, Petrol
One Bedford "M" Series tanker constructed in 1977 was developed with retardant mixing technology for trial testing over the approaching summer. Additional recirculation pipes were installed inside the water tank to assist with keeping the mixed retardant in suspension. Maintaining correct viscosity was a priority to ensure that the mixed retardant would flow through the standard tanker 38mm delivery plumbing. The retardant powder was introduced into the water tank via a large metal funnel fitted into the tank lid.

A 16 HP Briggs and Stratton engine C/C to GAAM Mk100 pump was installed as the main pump to provide pressure and flow for the trial.

Due to the size and configuration of the plumbing installed on the tanker, restrictions and blockages occurred in the tank outlets and elbows rendering the trial a failure. No future retardant mixing trials were conducted utilising a departmental fire tanker.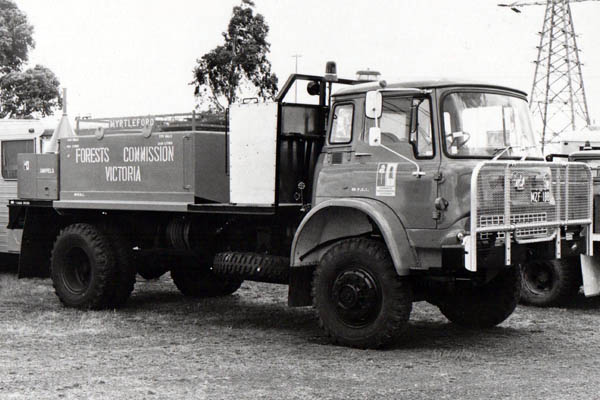 ---
1983: Mercedes Benz 911B 4x4, Diesel
The Mercedes Benz 911B was developed in both single and dual wheel configurations and assembled with a 3640 litre fibreglass tank. A metal firewall along each side of the tray provided radiant heat protection for the fire crew operating at either sides of the platform or the front deck. Two 25 mm X 15 metre deck hoses with norvent water guns provided blacking out capability from the front deck when required.
It was equipped with power steering and air conditioning.

Two aluminium access doors at the front works platform also provided crew protection from radiant heat during firefighting operations.

Water delivery was via a 7 HP Wisconsin /Gaam 30B pump delivering 80 GPM @ 80 PSI. Two underslung hose reels (one on each side of the vehicle tray) c/w 33 metres of 20 mm PVC delivery hose with dialojet water guns provided additional firefighting capability from the ground.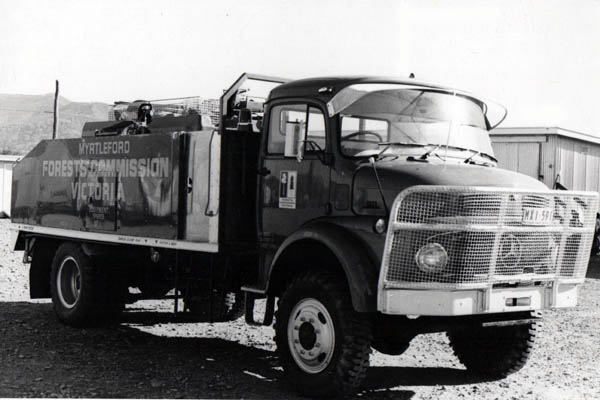 ---
1983: Isuzu JCS 420 4x4, Diesel
The design configuration of the new Isuzu JCS 420 4x4, replacing the earlier "M" Series Bedford cab/chassis, incorporated similar features to those previously included - ie "V" bottom water tank and front and rear separate platforms. it was equipped with power steering and air conditioning.

The tanker had a warning siren, red/blue rotating beacons, external work lights and Venturi class "A" foam injection at the water pump.

The tank capacity was 4000 litres - front compartment 2687 litres. rear compartment 1313 litres. Water delivery was upgraded to a 10 HP G400 Honda petrol engine c/c to a GAAM MK 100 water pump.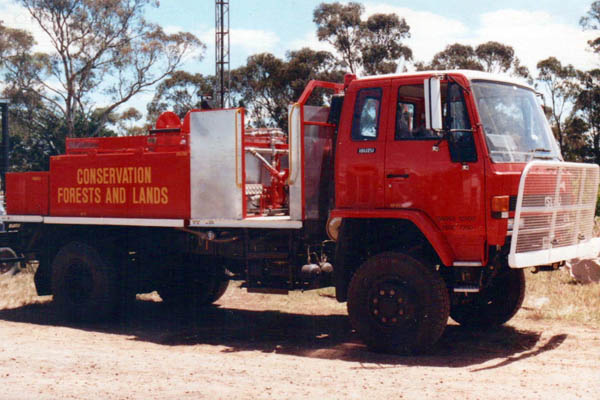 ---
1994: Isuzu FTS 700 4x4, Diesel
Seven Isuzu FTS 700 4X4 dual wheel tankers were assembled in 1994. They were equipped with power steering and air conditioning, a standard feature with current build cab/chassis at that time.

Two-way radio with intercom was wired to communicate with fire crew operating on front works platform, red/blue rotating beacons and warning sirens.

Installation of a hydraulic cabin lift mechanism.

Delivery hoses were fitted with quarter turn Wajax quick connect couplings, and there was provision of fire blankets for crew burn-over protection.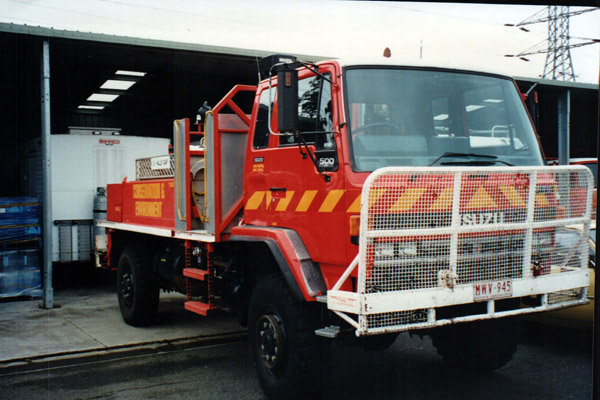 ---
1997: Isuzu FTS 750 4x4, Diesel
Fourteen Isuzu FTS 750 fire tankers were constructed in 1997 incorporating a Robwen class A foam metering system into the forward side of the water pump.
Water level probes were installed into both the front and rear tank compartments. Tank water level readout gauges were installed in the dash. A front deck high-pressure stainless steel water monitor was introduced for high elevation and blacking out operations.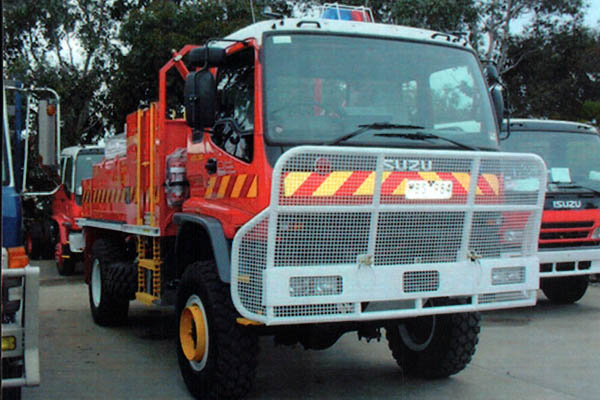 ---
2004: Isuzu FTS 750 4x4, Diesel
Permissible GVM 13000kg
Axle Capacity (Front) 4.700 kg
Axle Capacity (Rear) 9000 kg
Water tank capacity 4000 litres.
Water level front compartment 2600 litres
Water level rear compartment 1200 litres
Water pump upgraded to a Ruggerini MD191 diesel engine c/c to a GAAM Mk 125 pump c/w an automatic water flow control system
Output 450 LPM @ 700 kPa
Backup pump Davey /Honda Fire Fighter c/c fire fighter pump
Output 450 LPM Total head 71 metres Suction lift – 7 metres
Robwen Hydro-flo FP 100 proportioning system.
Installation of a vehicle mounted spray protection system. GPS, Motorola MCS2000 radio, battery guard, audible siren and intercom.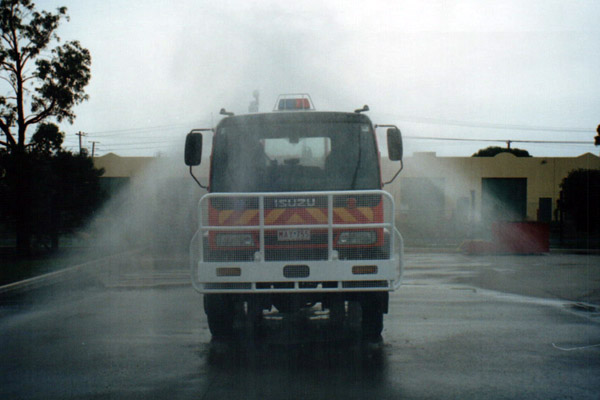 ---
2006: Isuzu FTS 750 Dual 4x4, Diesel
Eight dual-wheeled Isuzu FTS 750 4x4 tankers were built in 2006. These vehicles incorporated all the features of the 2004 fire tanker build program.

One new tanker was selected to trial Central Tyre Inflation (CTI). The trial was conducted in March 2006 at Wail on a loose sandy track that had proven difficult to traverse in conventional vehicles. Following comparative testing between a single wheel Isuzu tanker without CTI, and the dual-wheel tanker fitted with CTI, the latter proved to be a total success.

A CTI retro fit of all desert tankers was introduced soon after completion of the trial at a cost of approximately $6000 per vehicle.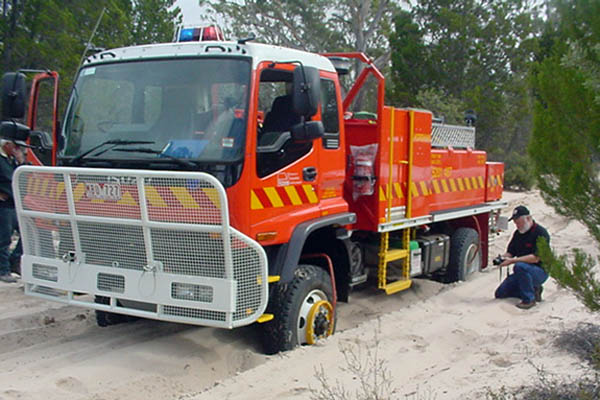 ---
2009/10: Isuzu FTS 800 4x4, Diesel
One new tanker was built during this period to include a number of design modifications including:
Water tank capacity 4000 litres
The equipment boxes were reconfigured to provide improved storage and access.
The Ruggerini Diesel pump engine was fitted with a sound deadening enclosed cover.
The Isuzu engine included an High idle device to ensure that the battery was receiving charge while the vehicle was stationary on the fire line with the engine idling
A battery guard system that provided sufficient battery charge for the tanker to always be started on the fire line.
A rear-mounted camera to provide additional safety and visibility for the driverat the fire line.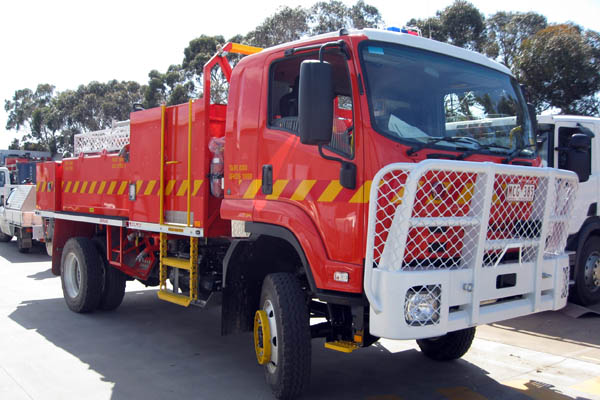 ---
2014: Mercedes Benz Unimog HD Fire Tanker, Diesel
Following an extensive national review of large rural fire tankers, the Mercedes Unimog was the vehicle selected to meet Victoria's forest firefighting needs.
The vehicle included a Falling Objects Protection (FOPS) and Central Tyre Inflation.