Ian Sebire
Some Career Notes
I was recruited into the Forestry school in 1964 from Lilydale High School. This came about after my scout master suggested it to me as a career. I spent two years in Year 12 in order to get into the School after missing out on selection the first time around. Others recruited from Lilydale High School at about the same time include Ian Kennedy, John Cahill and Mike Wade. Others with a connection to Lilydale included Ken Sheldon (his father Dasher was Deputy Headmaster and science teacher at Lilydale High), Phil Garth (parents lived in town), Don Thomson (father was a bank manager in town, and Roly Parke (I went to primary school with Roly's son).
My fellow students at Creswick were Ian Leversha, Ian Wild, Ian Hemphill, Ray Borschmann, Chris Muller, Roger Fyfe, Hedley Bond, Gary Waugh, John Bywater, Peter Bray and Brian Harwood. Brian lasted two years with us before being asked to leave due to non-acceptable exam results. My exam results were generally OK being in the top 2 or 3 mostly. My major disgrace was to fail Entomology in 3rd year. We were the first group who did not study under Teddo Semmens and instead had Charlie Irvine. I couldn't understand Charlie's teaching at all. I survived thanks to Alf Lawrence who argued strongly on my behalf to the Board of Examiners and I was granted a pass. At the end of first year my Christmas work placement was at Marysville with Frank Halloran. This was a time when pulpwood for APM at Maryvale was hand split into 6 foot billets and hand loaded onto tray trucks for the trip to the mill, mainly by huge and recently arrived Spanish immigrants. After 2nd year our field camp was at Rennick studying log output from a first thinning operation, case logs and preservation timber, felled with a chainsaw and hand loaded (crossways) onto a 5 ton tray truck.
After finishing at Creswick, I spent 1967 in various locations around the State. My first posting lasted five months at Nathalia under Herb Caldwell. Also there were John (Basher) Harris, John Arnold, Bill Briggs, Jack Hutchinson, Kelly McCann and Tom Galloway (Herdsman). My work included marking trees for piles in conjunction with the contractor Jack Swan (remarkable for his ability to estimate the length of standing 30 foot piles to an accuracy of 3-4 inches) and taking part in the Barmah muster. This was followed by about three months of pulpwood assessment at Heywood – I worked with Jim Waayers while Ken Morrison and Graeme McIntyre were the District staff. Then for my 3rd posting for the year it was off to Yarram for firefighting and site preparation for pine plantations. I met the Yarram crew at Erica as within 24 hours of arriving I was sent over to Erica for a fire. District Forester was Ken Sheldon, with John Booth as assistant and Jack Clark and John Blythman as Overseers.
I spent the next two years at Melbourne University completing a forestry degree. During the Christmas holidays I spent about four weeks at Koetong (the only thing I remember is counting pine seedlings in the nursery), then moved across to Myrtleford for a couple of months – more fires, some Woollybutt logging on the Great Divide and minor tasks in the plantations.
In late 1969, after completing university I was posted to Taggerty, following Garry Squires into the singleman's quarters there. DFO was Keith Jerome, assistants were Brian Vernon for a short while followed by Bill Clifford (young Bill) and John Slorach. Overseers were Jock Lowerson, Derek Symonds (at Murrindindi), Jack McFadyen and Don Fry (at Eildon). My work involved looking after the vehicles and conducting many mill studies, forest assessment, plantation establishment and hardwood logging. Nola and I married in May 1970 and we lived in the singleman's quarters for the next year after that. One story relating to this singleman's quarters relates to an earlier tenant - John (Basher) Harris - who was renowned as a rough house keeper. It was said that he would go fishing in the nearby river during the week and then keep his catch alive and swimming in the bath until the weekend when he went home. The depot petrol pump abutted the front verandah of the quarters and it is recalled that late one evening when Basher was absent a visitor from Head Office called in for petrol and wandered into the quarters. He is said to have been horrified at the state of the quarters and reported this back in Head office. Basher received a blast as a result and was suitably indignant, saying "A man's home is his Castle", took a brace and bit and drilled a hole in the front door jamb and the door was forever locked using a decking spike rammed into the hole (it was still the way the front door was locked when we lived in the cottage)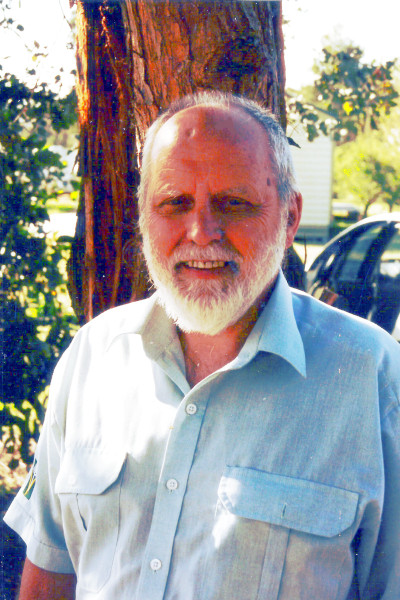 In May 1971 I was transferred to Nowa Nowa working under Phil Garth with Richard Stone, followed by Gus Geary and Ross Penny as assistants, John Brownbridge, Charlie Pettman, Ray MacCrae and Barry Worseldine as overseers. My work was to supervise the work gang, particularly road construction and maintenance (I built two new sections of road in the Mellick Munjie area of the district). One of the biggest problems was getting gravel onto the Nunnett and Mellick Munjie roads with only one decent source of gravel near the bottom of the Nunnett Road. Another task was seed collection. We built a new seed drying shed based on what was called the Mansfield pattern – no matter what we tried it was a failure at extracting seed. It burnt down one night and was replaced by a tumbler drier based on the Swifts Creek model. This consistently extracted a higher percentage of seed from the capsules than was achieved with the Mansfield extractor. We also found out that we had built the seed extractor on our next-door neighbour's property as the boundary had not been fenced on the correct line. Firefighting was a large part of the job with the Nowa Nowa crew always amongst the first to head to any fire across Gippsland. We lived in Residence R57, a house with many doors (19 as I recall). Our 2 year old son (Paul) loved his scooter tractor and rode from the kitchen, down the passage, across the back verandah, through the laundry and the sleepout into the main bedroom, across another passage to the dining room and back to the kitchen (a long circuit without retracing any part of the journey). The original District Office was apparently located in the sleepout while the second office was a single room building in our backyard. A further feature of this former sawmill house was the kitchen. The floor had such a slope that anything dropped on the floor could end up at any of the four corners. This was due to a tree stump being used as part of the foundations. Sure enough, when the house was sold off and removed years later, there was a huge, solid stump under the kitchen.
After four years, in early 1975, it was on the road again, this time to Ballarat under Jeff Brisbane, a legend of a District Forester in his time. Others on the staff were Tom Mahoney, Jim Carey and Sid Judd as Overseers, later Butch Drew joined us after Lal Lal district was added to Ballarat. Work in Ballarat was exciting with a lot of new techniques introduced, often in spite of the restrictions within the rules and regulations of the Forests Commission – I remember introducing 5th row outrow first thinning, the approved prescriptions said that it should approximate 6th row outrow (we did this on the basis that 5 is approximately 6). After we had been using the 5th row system for several years the official prescription was changed to 5th row outrow. We also changed the spacing of rip lines to reduce the mileage of rip lines required for planting and used good weedicide treatments for the control of grass and gorse. This was also very early in the 'greeny wars' and around Ballarat we had several groups of mainly students parading the streets waving banners, etc. They never achieved anything, however we had a 'little old lady' (Stella Bedgood), a member of the local Field Naturalists who had become interested in the local vegetation by going for walks in the bush while her commercial wood cutter husband cut his loads of firewood. Stella would come into the office and sit quietly drinking a cup of tea with Brissy. Between them they designed a comprehensive network of environmental reserves which Brissy implemented, probably with no consultation or approval from Head Office. Just another example of the way he did things. Stella quietly achieved what vocal protest could not. She had such a gentle manner. The local staff were sorry when she passed away late in my time at Ballarat.
In January 1979 we moved again, this time to Bairnsdale as Management Planning officer for Eastern Division. This was one of the few jobs outside of Head Office that could be applied for. I followed David Buntine in the role. I worked with Keith Gidley and Moray Douglas, while Chris Muller was Fire Planning Officer, Shane Dwyer, Ewan Waller and Ross Runnalls were doing assessment work throughout the Division. The work involved management plans for districts and specific areas as well as Land Conservation Council work. My firefighting involved much aerial work, spotting fires after thunderstorms. For this a regular route followed was the 'Grand Tour' – depart from Bairnsdale, fly up the Wentworth River valley to about Dinner Plain, north-east towards Mt Pinnibar then down the straight line of the NSW border to Cape Howe and back to Bairnsdale near the coast – four hours of flying (if you had to do it twice in the one day, which I often did, it was hard work). Other tasks were guiding the RAAF Hercules on a firebombing mission and the first use of infrared mapping equipment over an active Mt Elizabeth fire. The equipment had been borrowed from RMIT with the plane door removed and the operator (I think Bruce Dymond of Draughting Branch) tied in with a piece of rope. All carried out at 2 or 3am over the fire (it was still crowning at that time of day).
Just when I would have been due to move on again, Departmental amalgamations commenced. For the next 20 years I had a series of jobs without the need to move house. I did however move to different offices around town – Pyke St State Offices, Nicholson St (above the Camera shop), Main St (above the travel agents) and Service St (new offices on the site of the former Methodist Church). These jobs included work in Crown Land Management, Code of Forests Practices and the implications on timber resources of implementing new National Parks in East Gippsland. Each time, I returned to the management of timber harvesting in Gippsland. For a few years I was privileged to work with John McCormack until he retired, a quiet fellow but with a depth of knowledge and common sense that I appreciated. For about five or six years during the 1990s I was the Silviculture Officer for East Gippsland – east of Heyfield and Yarram. This area was noted for operations, particularly in High Elevation Mixed Species (HEMS). In this role I worked with other Silviculture Officers around the state – Peter Fagg, Gregor Wallace, Wally Notman, Gary White and Owen Bassett. During this time, I ensured that everything possible was documented. As a result I wrote several Silviculture Guidelines, Silviculture Notes for ERDAG (Eastern Research and Development Action Group) including setting up a website for that group. Also hounding the forest researchers in Orbost (mainly Mark Lutze and Maureen Murray) to ensure that everything they worked on became a Research Report.
Finally I left the Department (by this time DSE) just short of 40 years after I was offered and accepted a redundancy package in October 2003. I then worked for and with Ian Long who had left the Department 10 years earlier and established his own consultancy company – Ecosystems Management (Aust) Pty Ltd. I worked with Ian until I turned 65 in February 2010. During this time I enjoyed the freedom of consultancy work and the lack of endless, pointless meetings that the last few years of DSE had become. The work I did during this time included native timber harvesting and planning permit applications, native vegetation assessment, writing a Silvicultural Reference Manual on HEMS for Peter Fagg, work on the BassLink electrical connector between Tasmania and Victoria and a lot of auditing of environmental aspects of timber harvesting (particularly for HVP and the Latrobe, Baw Baw and Wellington Shires).