Finton George Gerraty
This short article has been extracted and used on this site with permission from Peter Evans, the author of "Rails to Rubicon."
The Rubicon Forest was one of the earliest forest reserves seated under the jurisdiction of the Forests Department. Until 1927, it was administered as part of the Upper Yarra District. In that year, the Niagaroon Forest District was created to control the sub-districts of Niagaroon, Marysville and Rubicon. The first professional forester appointed to administer the District was Finton George Gerraty.
Gerraty was born on 23 September 1899. He graduated from the Forestry School at Creswick 1917 1. His postings as a Cadet Forester included Broadford, Heathcote and Port Campbell, and later, as an Assistant Forester, at Broadford, Orbost and Beech Forest. He was appointed as Forester to the new district of Niagaroon on 20 June 1927, at an annual salary of £351. The district headquarters was established at Taggerty, and Gerraty was to leave his personal stamp on the administration of the Rubicon Forest for nine years until 26 July 1936, when he was promoted to the position of Inspector of Forests stationed at Berwick. Here, he continued to take part in many of the decisions made regarding sawmilling operations at Rubicon. He was considered by his peers as keen, efficient and accurate. In 1947 he was made a Commissioner of the Forests Commission, and was Chairman of Commissioners from 1948 to 1954. He retired with nearly forty years of service to the forests of Victoria behind him.
While in charge of the Niagaroon district, F. G. 'Gerry' Gerraty played Australian Rules football for Taggerty, and is remembered as a hard, tough footballer. It is perhaps just as well that he was, as he was often playing against men whose livelihood was directly affected by his decisions as District Forester. In addition, several of the mill workers were inclined to resent the fact that he was prone to tell them how their job should be done in the most efficient manner.
To travel to the mills on his regular inspections, Gerraty kept a horse stabled near Tin Hut. In later years he would arrive at Tin Hut, from Taggerty, in his single seater Buick car to collect the horse before heading off into the bush. Prior to the 1939 fires, Gerraty arranged the planting of a small experimental plot of pines on the top of the Blue Range. This was his pet project, although the pines were not of the successful Pinus radiata species and never amounted to much. (Pines Track on the Blue Range remains as a reminder of this experiment).
1 This sentence has been changed from the original to reflect information held in our records. (ed)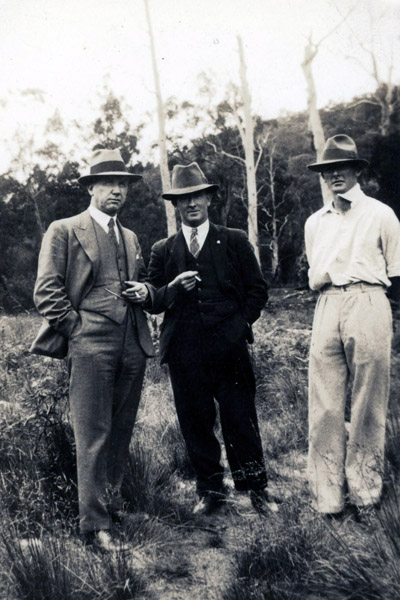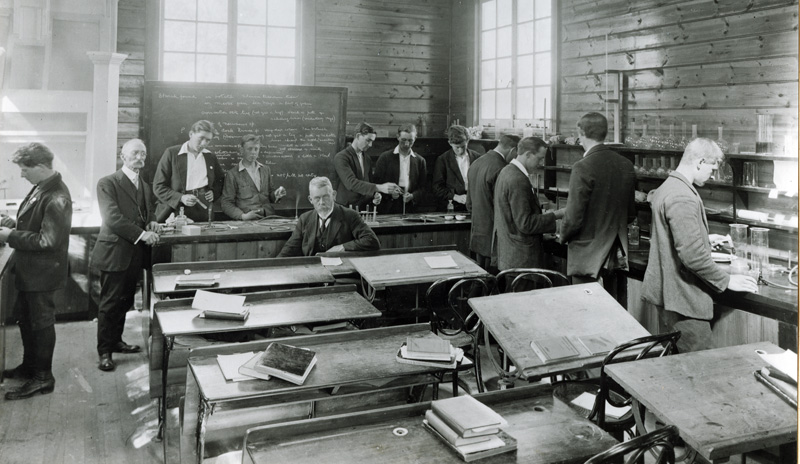 Additional Information
Dip.For.Vic. on Regeneration, silvicultural development and utilization of Eucalyptus obliqua - Messmate Stringybark
01/04/1920 - DFO Orbost
04/01/1924 - DFO Gellibrand
20/07/1927 - DFO Niagaroon (Taggerty)
1930 - Chief Forester, Powelltown
1935 - Inspector of Forests, Central Division (Healesville), confirmed 21/07/1936
27/12/1937 - Inspector of Forests, Berwick
1945 - Chief Inspector
Feb 1947 - Deputy Commissioner
May 1947 - Commissioner
June 1948 - Deputy Chairman
April 1949 - Chairman (12/10/1949) to 24/06/1956 (died while Chairman)
Latter part of WWII - he was seconded to Dept Army to examine and advise on the timber resources of the Northern Territory then organize logging, transport and milling.
1945 - his services were made available to Associated Pulp and Paper Mills Ltd of Tasmania to prepare a utilization and roading plan for the Company's pulpwood procurement areas.
1952 - to England, Scotland, Norway, Sweden, Germany, Switzerland, Italy, Canada and USA investigating forestry practices and industries, particularly re economics of utilizing lower grades of wood. Also represented Victoria at the 6th Empire Forestry Conference in Canada.