Aerial Seeding Native Forest
Aerial seeding as part of the process of regenerating harvested native forest in Australia was first undertaken in Victoria in 1964. These trials were located in Alpine Ash forests in the Mount Arbuckle/Bennison Plains area to the north of Licola in what was then the FCV's Heyfield District, and were described in {weblink Aerial Seeding 1964}Aerial Seeding of Alpine Ash{/weblink} R Grose, F Moulds, M Douglas (Australian Forestry, 28:3 (1964)
"The sites sown in the trial are in the Gippsland highlands 130 miles east of Melbourne, approximately 40 miles north of Heyfield. They comprised nine separate sites which ranged in area from 22 to 200 acres, and in elevation, between 3500 ft. and 4500 ft. above m.s.l. Two areas totalling 170 acres were near Mt. Useful, two areas totalling 240 acres were 21 miles north of Mt. Useful on Bull Plain Spur, and 5 areas totalling 280 acres were 21-26 miles northeast of Mt. Useful in the Bennison Plains-Mt. Arbuckle zone."
The rationale for this approach to seeding is described in the paper and shown in excerpts below:
"Difficulties in regenerating alpine ash, Eucalyptus delegatensis R. T. Baker, in association with logging have stimulated much basic and applied research in Victoria during the last decade. The objective of this research has been to define techniques that will give effective regeneration after logging.

During this period of research, seed sources used in practice have changed from group and strip seed sources, to single seed-trees thence to two-cut systems of fellings, and ultimately to clear-felling followed by direct seeding. Methods of preparing the seed bed also have changed. Initially little attention was given to preparation of the seed bed because an undisturbed seed bed was considered satisfactory. It is now realised that a burnt or bared seed bed is required to promote effective regeneration. In fact, an ash bed is the only effective seed bed for sites that are partly sheltered from incident solar radiation, e.g. south and south-east aspects. Recently, emphasis has been on burning slash to prepare an ash-bed seed bed. This form of seed bed is the most receptive in quality, it can be readily provided over most of an area to be regenerated and it can usually be prepared at much less cost than a cultivated or scalped seed bed.

Direct seeding of an ash bed prepared by burning slash in autumn has usually produced effective regeneration, particularly when the seed was broadcast rather than spot sown. In addition, poisoning, sapringing or scorching the crowns with a hot slash fire to induce seed fall on to a freshly prepared ash bed has regularly given effective regeneration. This evidence suggested that satisfactory regeneration should be obtainable by aerial seeding, provided that fixed-wing aircraft or helicopters could negotiate the mountainous topography, and that the small eucalypt seeds could be effectively and accurately distributed on the site to be regenerated."

"It is certainly too early to accept that aerial seeding as a technique for regeneration of alpine ash has been proved effective. This will only be demonstrable by crops of established seedlings. The efficient spread of seed on the sown areas however is most encouraging.""
The second aerial sowing of eucalypt seed took place in the Barmah Forest at Black Swamp in 1965. The aircraft was a Cessna 180 equipped with wing pod seeders (Figs.1 & 2), the same aircraft used on the first trial.

The block was sown with 3/4lb. (Eucalyptus camaldulensis - River Red Gum) seed per acre in early June 1965. Aerial seeding of 150 acres took 27 minutes and cost 45 cents per acre. This price covered the return ferry of the aircraft (250 miles) and an aerial reconnaissance prior to seeding.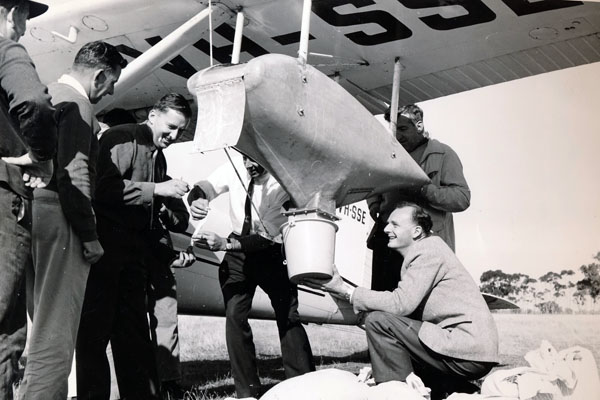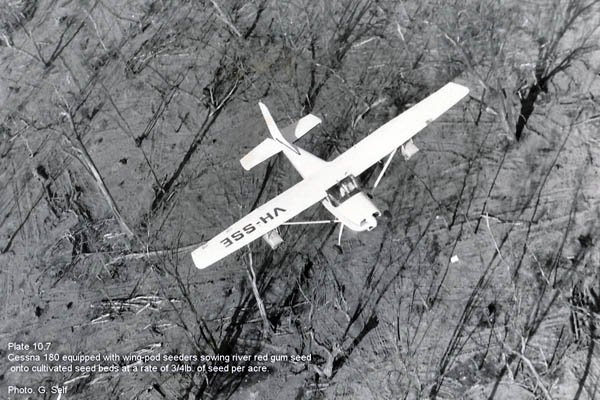 These trials proved that aerial seeding was a cost-effective technique for regenerating harvested areas, and aerial seeding quickly became an established component of the regeneration of the ash eucalypt forests in particular. (Figs. 3 & 4) By 1995 helicopters were being used for seeding. (Fig.5)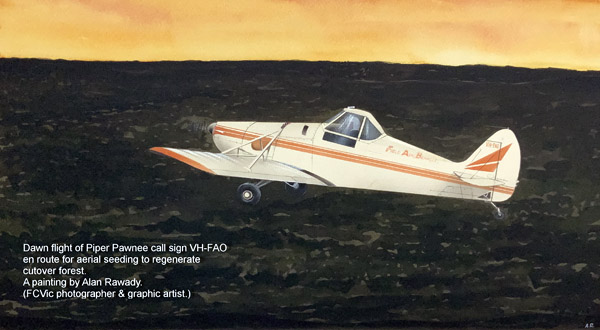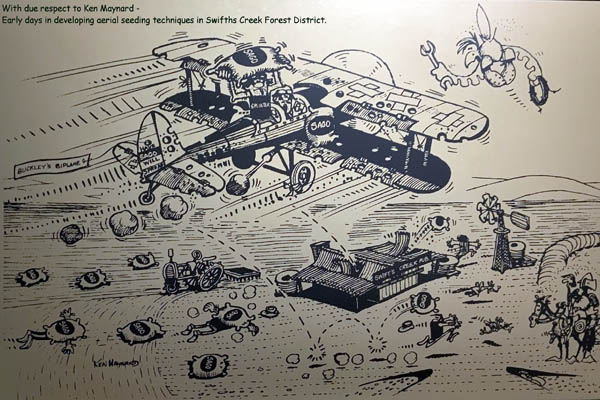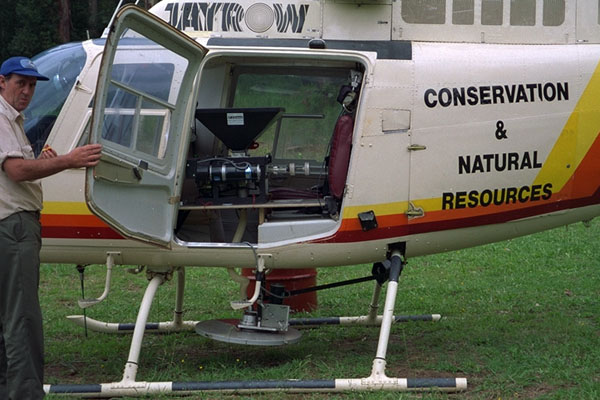 In 1978, Norm Cox, then District Forester at Heyfield took photographs of alpine ash seed being prepared for aerial sowing from Snowy Plains, and of the seeding mechanism on the aircraft. (Figs.6 to 11) By this time the seed was being bulked up to aid distribution, and coloured so it could be seen easily on the burnt coupe and the success of the operation easily checked. The process was:
Dry seed was put into a cement mixer, which has had the vanes removed, and glue was sprayed onto the seed as the mixer revolved.
Kaolin was then added. It stuck to the glue-coated seed to form small balls.
Yellow dye was added using a hand sieve to keep it fine and avoid lumps of dye forming. The dye was used so seed distribution could be more easily checked on the ground.
Dyed seed was then bagged and taken to the airfield, where it wasloaded into the hoppers under the wings of the aircraft.
The hoppers had been graduated to drop the required density of seed per hectare.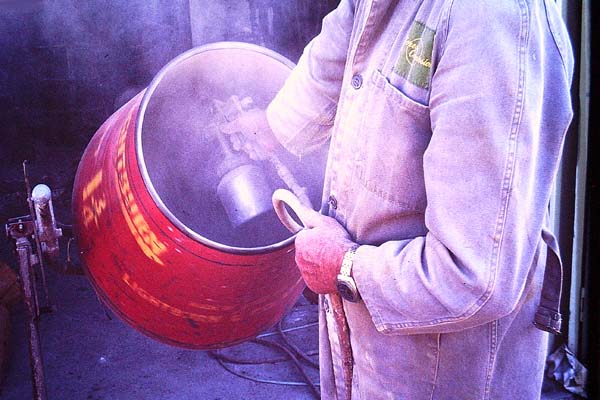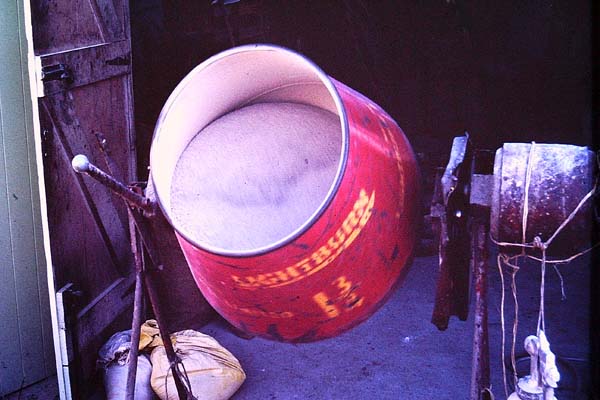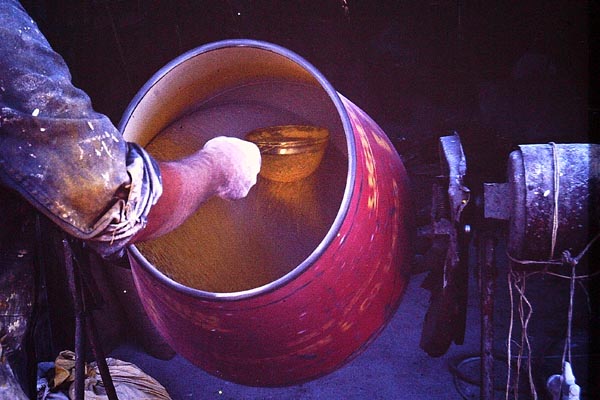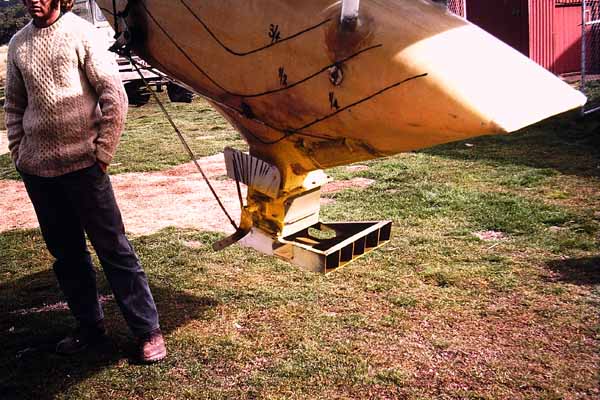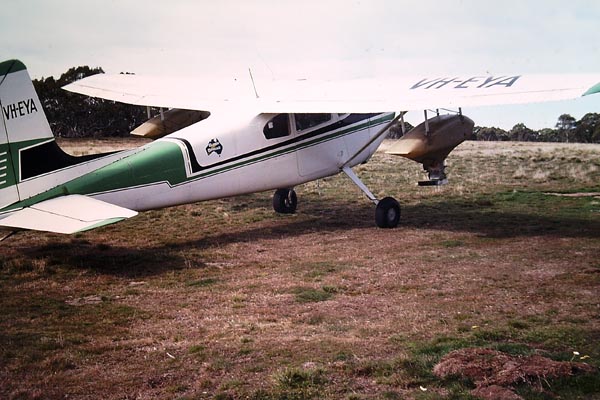 In 1978, Norm Cox also took photographs of the early stages of alpine ash regenerating in the Tamboritha Saddle/Mt Arbuckle area. (Figs.12 to 17)